Generation has created this tool to help companies understand the full cost of hiring
In order to minimize their cost-per-hire, companies analyze direct costs related to recruitment and onboarding and training. But what about the indirect costs that are more difficult to calculate, like turnover?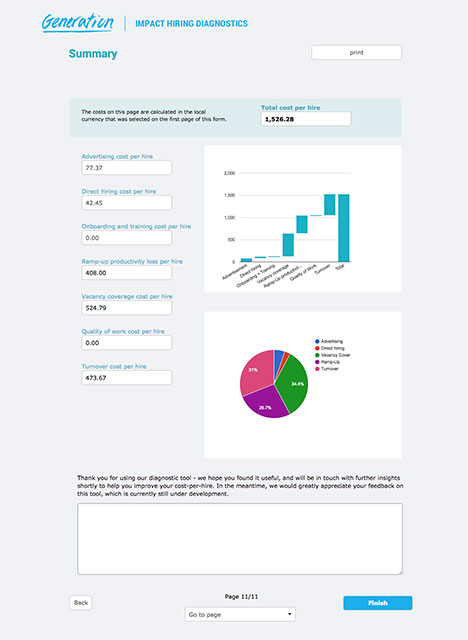 With the generous support of the Rockefeller Foundation, Generation has developed the first ever digital tool that allows employers to input data and calculate the cost per hire across direct hiring, onboarding and training, productivity, vacancy coverage and turnover. Harder to calculate costs such as productivity loss, coverage for when a position is vacant and turnover are also included — allowing employers to more fully capture the end-to-end costs across the employee lifecycle.
If the data is on hand, we estimate it will take employers ~30-60 minutes to complete independently. Employers will likely need to work with multiple business partners to source the data — you can save your work and return to the form, or share the unique link generated with multiple users.
As this calculator is in beta, Generation appreciates any and all feedback as we work to develop tools that are helpful to employers. Future versions will include industry comparisons to enable you to benchmark your costs across companies in your industry.
Please note that individual employer data will be kept confidential to Generation (data may be used to generate industry comparisons). For more support or for any questions, please reach out to our team at diagnostics@generation.org