« All News
Generation supports 3,000+ learners in Europe with support from Google.org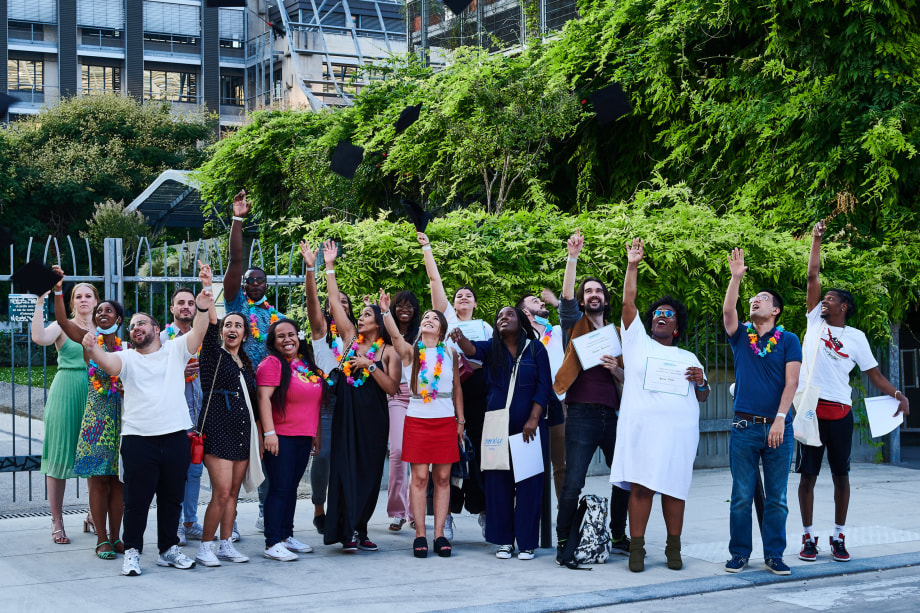 When Larry Dufrenot moved to Paris with his wife in 2018, he had dreams of going to school and becoming a film director. He'd landed a work-study place at the prestigious International Film School of Paris (EICAR), and he was excited to learn from some of the best in the business. The only issue was: he needed an employer to sponsor his place.
Despite plenty of experience — first as a social mediator, then as an entrepreneur who ran his own communications and events agency in his home country of Martinique — Larry had no luck landing a job. For over a year, he faced rejection after rejection. His savings were depleted, and with his wife now pregnant, he began to worry about providing for a family. When he asked recruiters why he'd been passed over for roles, the answer was usually one of two surprising reasons: he was either "too qualified" or "too old"; two things there was nothing Larry could do to fix.
After trying what felt like everything, Larry discovered Generation. A few months later, after going through Generation's training program, Larry landed a fixed-term contract with a French startup, Doctolib — an online platform that facilitates virtual medical appointments. By June 2020, Dufrenot was hired permanently.
"Many of the job seekers who come to us are people like Larry — people looking to make a career shift, who often come from unconventional backgrounds, and who slip through the traditional recruitment process," says Meryem Belqziz, CEO at Generation France. "The programs and tools we build with support from Google.org seek to refocus the hiring process on skills, rather than how old someone is or where they come from."
How technology is helping Generation connect job seekers with employers
Since 2018, Generation has helped train and find employment for more than 3,000 job seekers in France, Italy, and Spain, where its programs have been enabled by $7.5M in grant funding from Google.org. Many of those that Generation supports come from underserved groups — 54% of learners are female, and most describe themselves as financially unstable before joining Generation, with 80% of learners unemployed.
Generation believes that great employees are identified through their skills, rather than their demographics. To make it easier for recruiters to find the talent they need from its pool of graduates, Generation has built a new Employer Portal, developed with support from a team of four Google.org Fellows — data scientists and product managers who worked full-time, pro bono alongside Generation for six months.
What differentiates the Portal from other job-matching platforms out there is that employers can search for talent based on the skill-set of the job seekers, which Generation helps validate beforehand. Focusing on the skills that candidates bring to the table, rather than data points like age, gender, and education, help to minimize hiring biases and unlock new talent pools for employers — breaking down barriers to employment for underrepresented populations.