Generation values employer partners across the globe. We've created this tool to help you understand the ROI of a partnership with Generation
Hiring new employees is costly. Many managers believe they understand the costs associated with hiring, but few have full visibility into each cost category.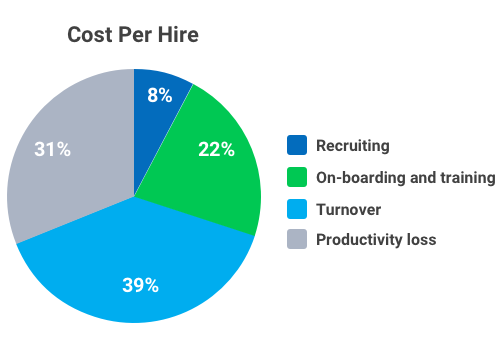 Recruiting as well as on-boarding and training contribute to nearly 40% of the total cost-per-hire. Turnover can lead to loss of productivity and can contribute to more than 50% of  total cost-per-hire. Generation can calculate these costs for you and provide a solution to make your hiring process more efficient.
*The data is representative of preliminary results Generation gathered through employer surveys
Generation provides employers with a high-performing talent pipeline of entry-level employees that are retained longer, enabling cost-per-hire savings. We consider these savings as the Return on Investment (ROI) for Generation's program.
The tool below provides a high-level estimate of potential ROI that could be realized through a partnership with Generation.
Please note that the ROI range estimated is dependent on company-specific details.
In what country are you hiring?
Please note: Savings are displayed in 'USD'
How large is your company? (number of employees)
Smaller companies tend to experience the costs of recruitment and turnover more acutely
What is your average salary for this position? (wage per hour)
The average salary helps us understand the relative value of the employee's time
For how many weeks do you formally train employees (e.g., direct classroom instruction, on-the-job apprenticeship)?
Relative time of training helps us understand the time and effort invested by an organization
How many months does it take on average for an employee to ramp up and become fully productive?
The longer an employee takes to reach complete productivity, the higher is the cost per hire
What is your average annual turnover? (% of employees annually)
Turnover results in the need for coverage, often more costly, and additional ramp-up time for replacement
How many days does it typically take your company to hire a new employee when this role turns over?
A role's vacancy can be costly due to the need to pay overtime, paying supervisors to fill in, and revenue loss because of lacking capacity
An employer with the above specifications may realize an average ROI from

$X,XXX

to

$X,XXX

per hire through partnership with Generation.
Generation has created significant savings for employers in each of the hiring cost categories.
66%
Savings in recruiting costs
61%
Savings in training and onboarding
64%
Savings in turnover and vacancy loss
89%
Graduates outperform their peers
For a more detailed and customized analysis demonstrating the estimated ROI of a Generation partnership, please submit your contact information and a representative from Generation will reach out in 2-3 business days.