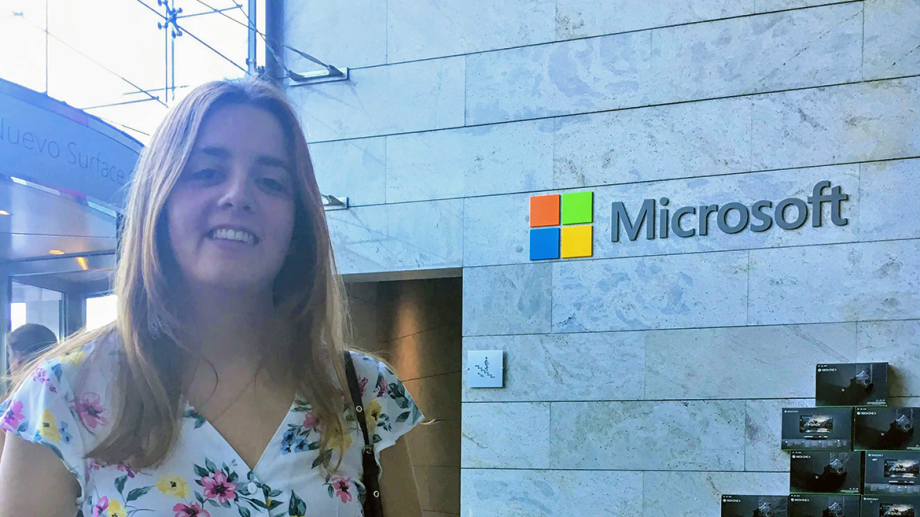 « All Voices & News
Beatriz: Four years of professional and personal growth
The first cohort graduated from the .net and Azure program sponsored by Microsoft, the IAMCP, and Generation Spain in December 2017. Beatriz, one of those graduates, had come to the three month program with almost no knowledge of cloud, fresh out of university and with minimal job prospects in technology where she wanted to work. The program taught her the technical, behavioral, and mindset skills to enter a cloud role, and she gained a community of friends that she remains in touch with.
Within a few weeks of completing the .net and Azure program, she began her cloud career as Associate Business Consultant at DXC, a leading independent provider of IT services worldwide. Since then she has moved on, and is currently a Cloud Engineering Analyst at Avanade. Her professional and personal growth has been steady, and we sat down with her recently to hear more about her journey.
Since graduation, how would you describe your professional growth? What positions have you held?
My professional growth since 2018 has been enormous.
After finishing the course I started working for DXC. There, I was able to take my first steps in the cloud and work on real projects with Azure. I was at DXC for a year before moving to Avanade, where I am currently. At Avanade I am continuing to develop my Azure skills through a variety of projects. Both at DXC and at Avanade I have had the opportunity to learn a lot and to focus my skills on cloud infrastructure, a high-demand area.
Have you continued to certify yourself in Azure or Microsoft technologies? What certifications do you currently have?
One never stops learning, and I have continued to gain certifications on my own or because the companies I have worked for have asked me to obtain specific certifications.
I personally see certifications as very important since they open many doors in the world of work and in getting new projects. I have specialized in Azure, and I currently have certifications for Azure Fundamentals, Azure Developer Associate, Azure Administrator Associate, and Azure Solutions Architect Expert.
Are you happy and do you feel that these technologies help companies in their growth and maintenance?
Yes, the cloud greatly helps companies in their growth. It allows them to have the scalability and efficiency to really focus on what matters to them – the product or service they want to offer. They only pay for the services they use, so they can save costs and don't have to worry about having their own infrastructure.
I see my work as important. I am teaching companies to work in the cloud and helping them create and maintain the environments they need.
How have you experienced the COVID-19 pandemic in your work environment? Have you felt supported?
2020 was a very difficult year for everyone. The pandemic forced us to change and adapt to work in a different way. Suddenly, we had to work at home without being able to see our colleagues in person.
The first days were very overwhelming and hard. It was difficult for me to differentiate between work and home environments (they had become one and the same), and it was difficult for me to disconnect from work. But over time I adapted, and now that we have been telecommuting for more than a year, I have realized that, although I prefer not to telework the whole week, it is good to do it two or three days a week.
I felt cared for and supported by Avanade. We had several initiatives and tips to help us use time at home well and clear our minds. They cared about our state of mind. But above all, I felt very supported by my colleagues and team.
Do you think technology companies have seen growth driven by the pandemic circumstances?
Although 2020 was a difficult year due to COVID-19, I think it did drive growth too. Without a doubt, the pandemic presented an opportunity for technology companies since it forced businesses to greatly increase investment in technology. The pandemic led new investors to enter this sector, thereby accelerating the development of many technology companies. They have managed to come out stronger by knowing how to adapt.
What position do you have now and where do you see yourself in 5 years?
My current role at Avanade is Cloud Engineering Analyst. I don't know what the future holds for me, but I do know that I am passionate about the cloud and my goal is to continue working and improving on it.
In 5 years I would like to continue as a cloud architect and specialize in security. I have realized that the cloud world offers many opportunities and will continue to grow tremendously in the coming years (you just have to look at the growth that Azure has had in recent years, for example). Cloud technology is already very important today, and its importance will be even greater in the future. That is why I am passionate about this world.