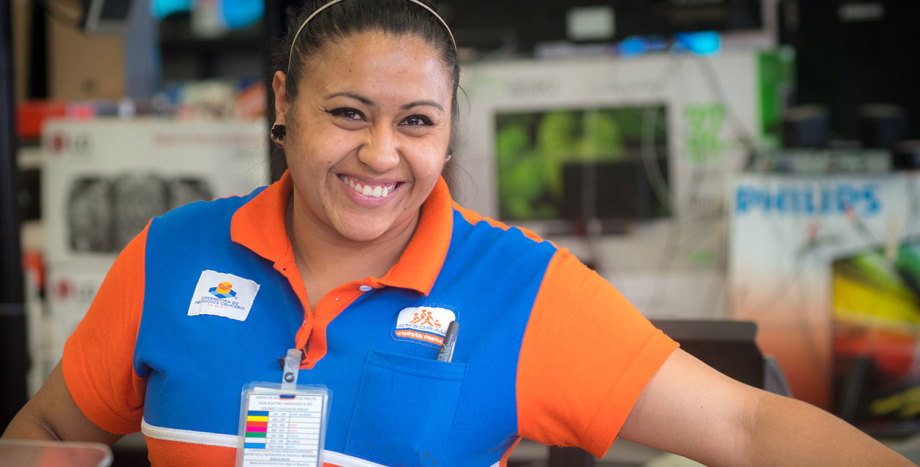 « All Voices & News
Gabriela | Mexico
Gabriela joined Generation Mexico in 2015. After graduation she got a job as a cashier at Chedraui, a leading Mexican retailer.
Many obstacles to overcome
Gabriela had dreamt of going to nursing school, and her older brother was committed to supporting her. "My brother would always tell me: 'You are not going to work, you will keep going to school and I will pay for your studies'." But then the worst happened: her brother, just 21 years old, was killed.
Gabriela had no choice but to seek work herself. But with no qualifications, she struggled to gain a foothold and began to lose hope. "There were always obstacles. One job after another, scams… I said no, this can't be it."
A new chance to believe in myself
Gabriela joined Generation's retail program in Mexico City in 2015 — and sees those intensive four weeks as a turning point in her life. "Generation changed my life — a lot! For me Generation is a step towards success, because apart from providing you with the opportunity to find work, it also gives you a chance to believe in yourself."
A job with a difference
Upon graduation, Gabriela was offered a permanent job as a cashier at Chedraui. With a fixed hourly rate and social security, she felt a huge difference compared to her pre-Generation experience of low-wage, informal employment. Together with her fellow Generation graduates, Gabriela is already making her mark at Chedraui. In the words of her manager: "They really stand out from the crowd — you notice the difference."
Keep climbing and climbing
Less than a year into her new job, Gabriela has been promoted to a supervisor role. "Here you have the opportunity to grow… to keep climbing and climbing." Her hope has been restored — not just for herself, but for the next generation too. "I want to set an example for my daughter, so she can say: 'I am not alone, my mother fought for me'."