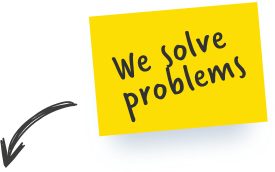 How we solve
Talent Scarcity
Sometimes there just aren't enough qualified candidates for the jobs you need to fill. Generation offers a reliable pipeline of highly-skilled talent that's ready quickly since our bootcamp style programs last a matter of weeks.
How we solve
On-the-job performance quality
When new hires start, they can struggle to get-up-to-speed. Generation's training requires extensive practice of the most important activities so that our graduates are your best employees from day one on the job.
How we solve
High turnover
Managing churn in entry-level roles can be uniquely challenging. Generation ensures our graduates understand the demands of a role before they start work, and then provides mentorship and support during the first months of employment so that they stay on the job for the long term.
How we solve
The need to reskill employees
Automation and digitization are changing the nature of work and the skills required. Generation partners with employers to reskill workers for new, in-demand roles, either at their current workplace or in a different industry / employer all together.
Performance
82%
of our employers say that Generation graduates outperform their peers
Satisfaction
92%
of our employers would hire Generation graduates again
Retention
64%
still employed one year after placement*
We've got it covered
We recruit, train, and place non-traditional candidates in entry-level, middle-skill roles across a range of sectors and professions—and are adding new ones all the time.
CUSTOMER SERVICE & SALES
---
Beauty therapist
Call center operator
Cashier
Commercial salesperson
Financial salesperson
Food & beverage steward
Front desk clerk
Insurance salesperson
Microfinance officer
Pharmacy technician
Retail associate/manager
Retail banker
DIGITAL & TECHNOLOGY
---
Cloud support engineer
Digital marketer
IT help desk technician
Java developer
Robotics process automation developer
Web developer
HEALTHCARE
---
Certified nursing assistant
Direct support professional
General duty assistant
Home nursing assistant
SKILLED TRADES
---
Construction helper
Machine operator
Sewing machine operator
Generation at Work
Isabel, Spain RPA
Generation Spain worked with Prosegur to help them build a new Robotic Process Automation department filled with talented graduates like Isabel.
USA Employers and Partners
"There's something else that drives the Generation students. It's a different sense of purpose that they have." — DeChanta Knox, Cadia Healthcare
How can we help you?
Find out more about hiring graduates from one of our programs. Don't see the profession you need? We regularly work with employers to create new programs. Reach out to start a conversation. Asterisks (*) denote required fields.