« All News
Generation France and The Hg Foundation announce €1m+ new tech-focused partnership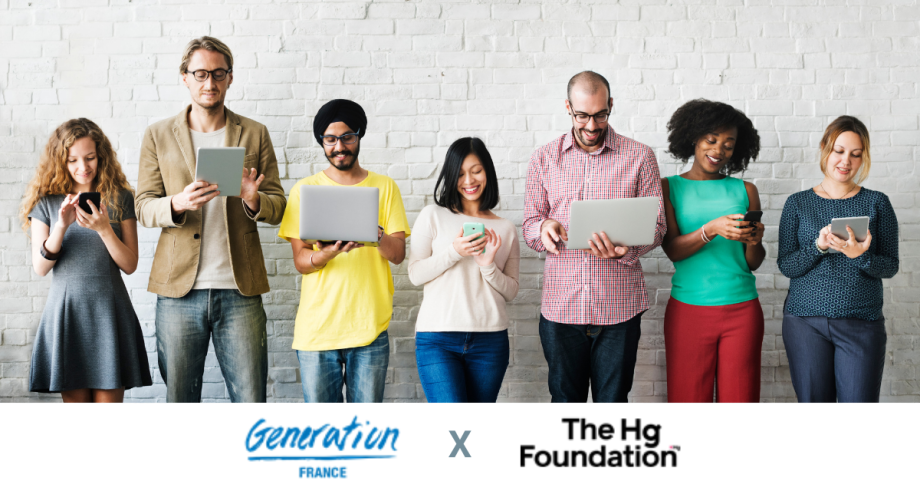 The partnership will launch programmes to support up to 3,500 individuals experiencing unemployment or underemployment into life-changing technology careers in France.
Generation France announced a new partnership to help up to 3,500 people in France to gain employment in the technology sector.
Generation France is a non-profit which aims to bridge the gap between the many employers who struggle to recruit talent and the 2.3 million French people not in any form of training or employment.
This partnership will support Generation France's Customer Care & Full stack developer programmes whilst also focusing on the technology sector by developing three new, additional programmes. These programmes will initially run between 2021-2023 and will be supported and seed-funded with over €1 million through a long-term partnership with The Hg Foundation.
The Hg Foundation's goal is to make an impact on the development of skills most required for employment within the technology industry, focusing on individuals who may otherwise experience barriers to access. The Hg Foundation is backed by Hg, a leading software and services investor. In support of this partnership, Hg will look to provide participating graduates with job opportunities and mentors from within Hg's portfolio of software and service businesses, whilst also engaging its wider tech network in France to explore other potential placements for graduates. Hg's involvement will also help Generation France to grow its tech portfolio of professions.
Part of the funding from The Hg Foundation will also look to invest in a robust, third-party impact evaluation of Generation tech programs in France and fund a return-on-investment (ROI) fact base. This analysis will be used to inform both employers and Government of the benefits of the programme, helping to encourage more employers into the scheme.
Meryem Belqziz, CEO of Generation France, said: "The impact of COVID-19 has been severe in France. The restrictions and various local lockdowns mean that youth unemployment is around 20% higher than it was prior to the crisis. The same is true for the elderly, with two segments of the population particularly affected. This situation shows how essential our mission is and we aspire to bring our proven methodology into the mainstream as quickly as possible, calling on strategic and philanthropic partners to join us in this endeavour."
"We are delighted that The Hg Foundation has answered this call. Together we will launch critical new programmes for learners across France. The Hg Foundation will give our learners access to Hg's technology portfolio and network, whilst also providing significant investment to produce evidence that enables us to inform and shape workforce policy in France, ultimately helping thousands of others over the long term."
Jean-Marie Wecker, Principal at Hg and representing The Hg Foundation, said: "This is our fifth partnership since The Hg Foundation launched around 12 months ago and we're delighted to back such an impactful programme in France. The Hg Foundation focuses on intervention in education and technology where impact is measurable, long term and scalable. Generation France has developed an innovative programme which matches these criteria. We're really looking forward to working with the team and growing this further over the long term."