« All News
Generation joins the Deep Tech Talent Initiative launched by the European Institute of Innovation & Technology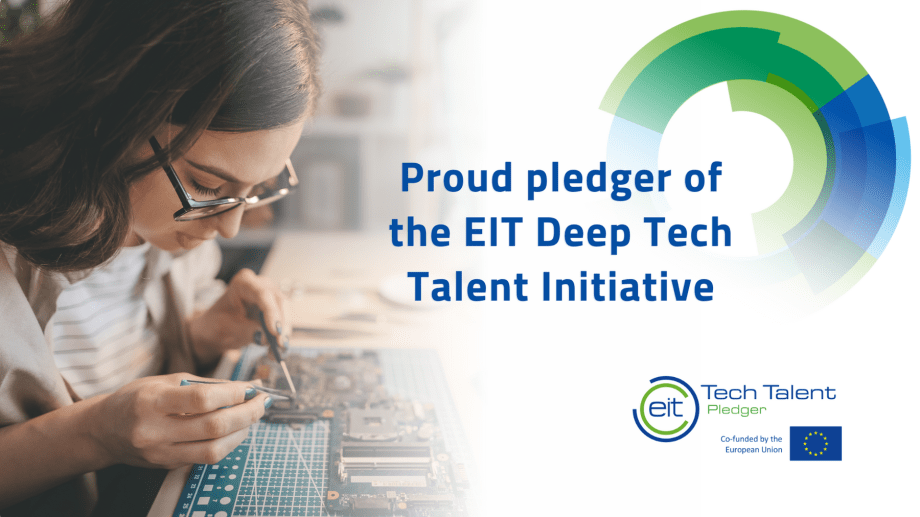 On 28 March 2023, Generation joined a pledge launched by the European Institute of Innovation & Technology (EIT) to train over 500,000 Europeans as part of the Deep Tech Talent Initiative. The EIT is an independent European Union body that drives innovation across Europe by bringing together organisations from business, education, and research to find innovative solutions to pressing global challenges.
In this first wave of pledgers, Generation joins JA Europe, Intel Europe, Abodoo, the Technical University of Cluj-Napoca, the Tampere University of Applied Sciences, as well as 3,400 partners within the EIT Community to support the development of trainings and courses that will fast-track the careers of deep tech learners. 'Deep tech' refers to those startups whose business model is based on high tech innovation in engineering, or on significant scientific advances, aimed at solving complex societal challenges. The ambition to train one million Europeans in deep tech by 2025 is a critical step for Europe to solve societal challenges and stay competitive in technologies with high innovation potential.
The first pledgers reflect the diversity of organizations joining the Deep Tech Talent Initiative: a mix of training providers, funders, enterprises, and non-profit and public sector partners that will work together to equip learners with cutting edge tech knowledge and the savviness needed to bring that knowledge to the market. Nektarios Tavernarakis, Chair of the EIT Governing Board, said: "The EIT and our new partners share a vision where deep tech like AI — which is changing the world as we speak — is developed and used first and foremost to help humanity with challenges like climate change, sustainable food production, and health crises. I look forward to working together with our new pledgers to develop the talent that will carry out this vision."
The aim of the Deep Tech Talent initiative is in line with our mission to prepare, place and support people into life-changing careers that would otherwise be inaccessible. "It takes courage to take on global unemployment, but together with our partners we believe we can rise to this challenge and fundamentally transform education to employment systems in Europe and around the world," said Generation's Europe COO, Minh-Huy Lai.
Our aim is to break down the barriers to employment faced by people coming from underrepresented backgrounds. In order to do so, both at scale and inclusively, we offer programs for job-seekers of all ages, genders, and backgrounds, from youth to midcareer professionals, looking to change career. To date, Generation has more than 75,000 graduates who have earned more than $630 million in wages, and we work with more than 11,000 employers, implementation partners, and funders.
As part of our commitment to the Deep Tech Talent Initiative, Generation Ireland, Generation Spain, and Generation UK have pledged to train 5,700 learners through 11 courses (9 courses are already running, and 2 will be launched before 2025), such as Data Engineering, IT Support with Cyber Security, Robotic Process Automation, and Cloud Computing Development, to name just a few.