« All News
Generation's green jobs programs in Europe
by Minh Huy Lai, Europe Chief Operating Officer @Generation
Generation launched its first green employment program (Junior Retrofit Advisor) in the UK in late 2021. A year later, we launched green programs in three more European countries (France, Spain and Ireland). With growing employer demand and strong learner interest across Europe, there is an opportunity to expand the pool of talent with green skills and ensure that no one is left behind in the green transition.
Europe is poised to take advantage of this opportunity. Approved in 2020, the European Green Deal (EGD) is an ambitious policy initiative of the European Commission (EC) aimed at helping Europe become the first climate neutral continent by 2050. Earlier this year, the EC presented an updated plan to put Europe's net-zero industry in the lead (The Green Deal Industrial Plan) in which "enhancing skills" is one of the four core pillars along with a predictable and simplified regulatory environment, faster access to funding, and open trade for resilient supply chains. The successful implementation of the EGD relies on the availability of qualified professionals with green skills in sufficiently high numbers to support the projected growth of the green economy across Europe. All education and training providers, from universities to vocational schools, have a role to play in meeting this demand, including Generation.
The results of our European green skilling programs have been very promising so far. To date, we have prepared over 345 learners for green jobs, and 84% of them found employment within 90 days of graduation. 92% of our learners in green jobs programs are unemployed before joining our programs, and 43% are over 40-years old, compared to 12% for all the other programs we currently run in Europe.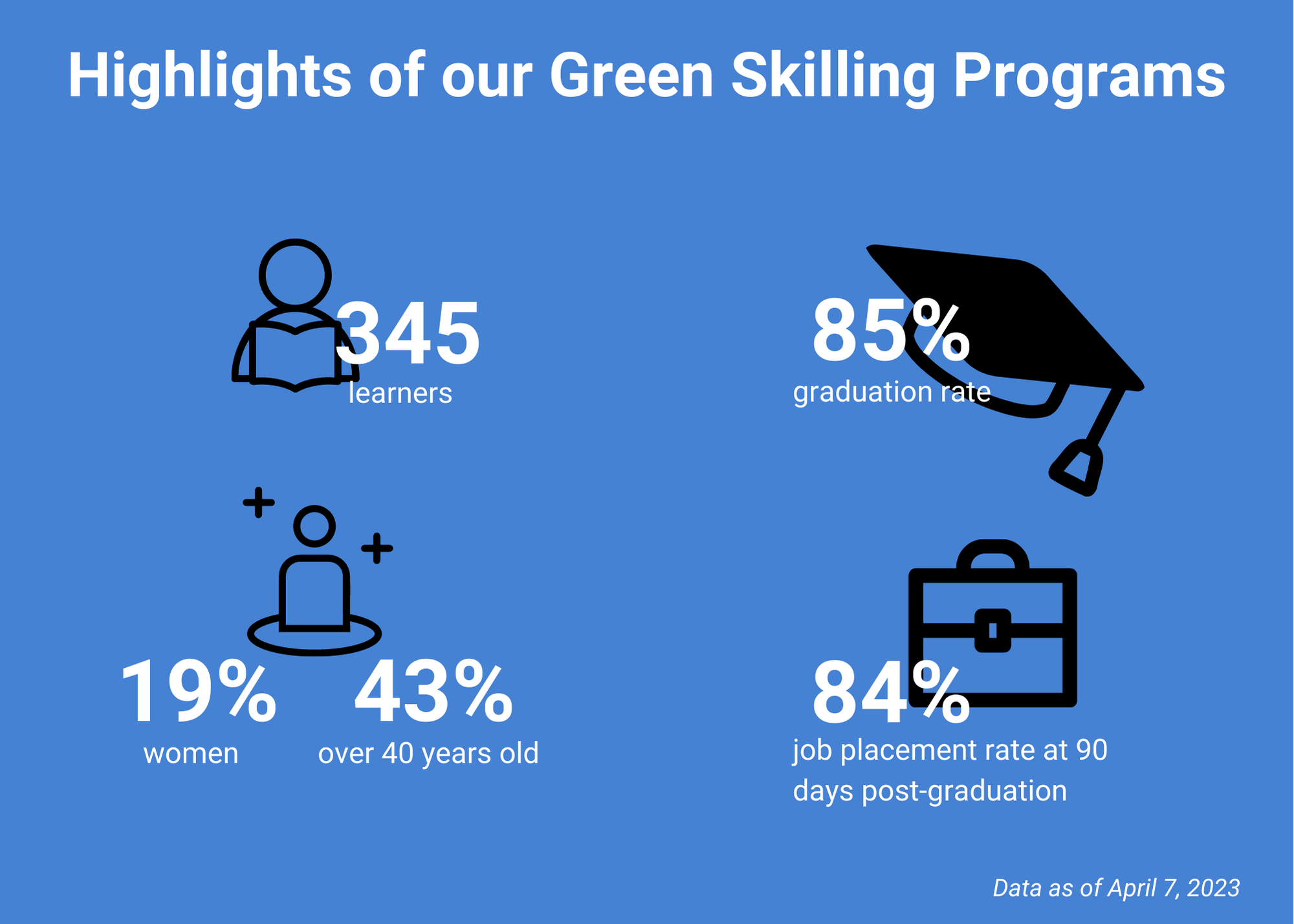 We aim to solve a wide range of employer challenges — skilled talent shortages, lackluster on-the-job performance, reskilling needs, and higher turnover in important roles — with our unique approach and our determined graduates. Through our programs, adults of all ages — whether unemployed, underemployed, or needing to learn new skills — can connect to the training and support needed to change their careers and transform not only their own lives, but also the lives of their family members.
Omosola's story
Omosola is a graduate of the Generation UK Retrofit Advisor program who was unemployed for over 2 years before joining Generation. He is currently employed as a Retrofit Advisor at E.ON.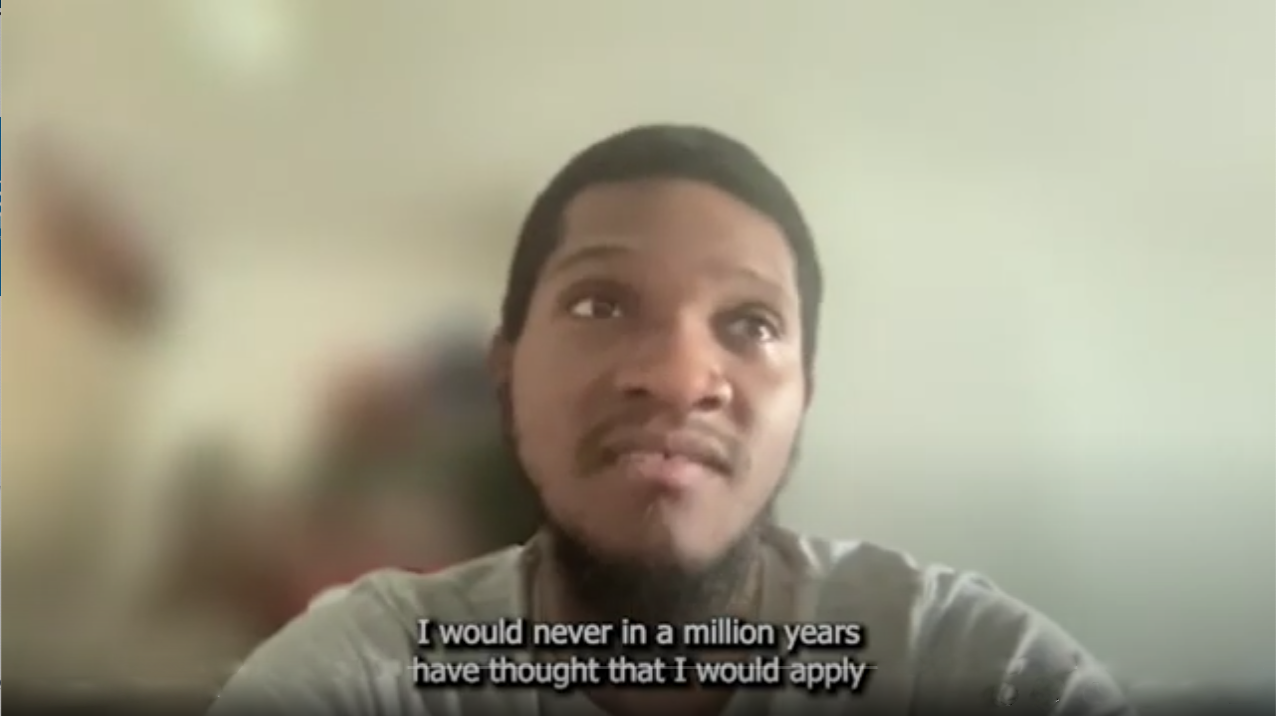 "I would never in a million years have thought that I would apply to work for one of the biggest energy companies in the world. To have done that as my first job in the UK is massive for me."
—Omosola
You can learn more about Omosola's story here
Trinidad's story
Trinidad is a graduate from the second cohort of the Generation Spain Solar Panel Installation program who was working in the retail sector before joining Generation. She now works at Holaluz.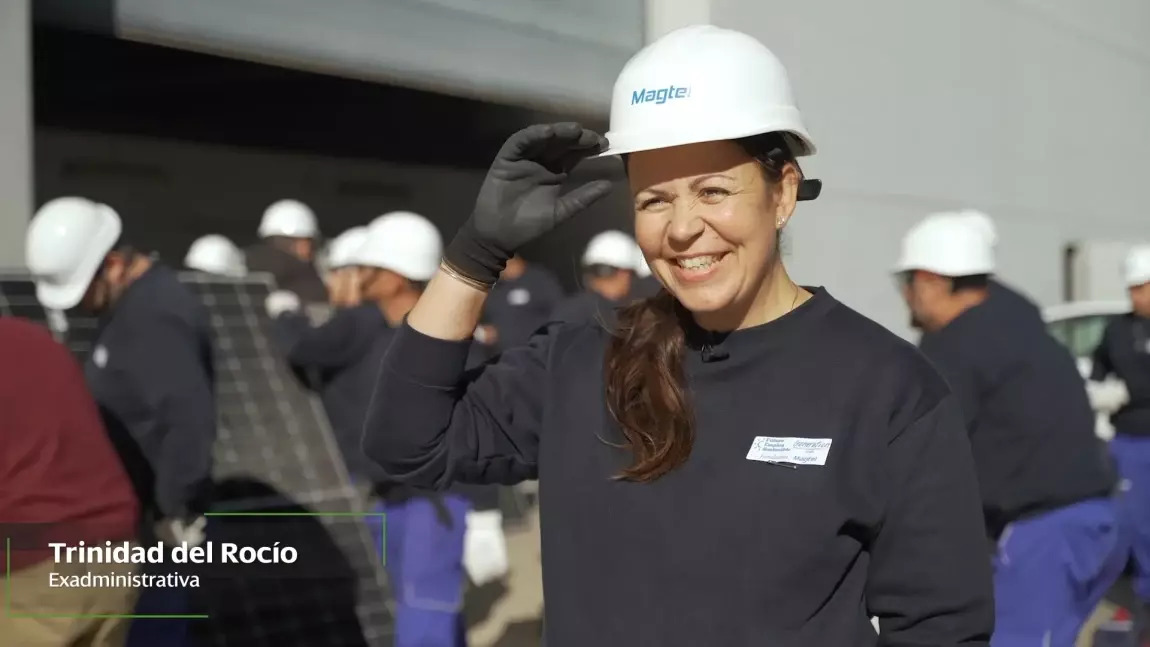 "I saw myself installing solar panels everywhere! But, above all, I expected a new opportunity to build a sustainable professional future."
—Trinidad
You can learn more about Trinidad's story here
Meeting the rising demand for green skills
Ursula von der Leyen, President of the European Commission has said: "We have a once in a generation opportunity to secure the EU's industrial lead in the fast-growing net-zero technology sector. Europe is determined to lead the clean tech revolution. For our companies and people, it means turning skills into quality jobs and innovation into mass production, thanks to a simpler and faster framework."
We estimate that our green skilling programs will become the second largest category of training programs by learner volume in Europe, second only to tech, in the next 3-5 years. Consequently, we are planning to scale up our green skilling programs to provide market-relevant and job-ready talent for the European labour market. In the next 2 years, our main goals are to double the number of programs we run across the continent and have at least one green skilling program in every European country we are present in. Outside of Europe, India will be the first country we will launch a green jobs program in.
We are confident that green skills will soon become as essential across sectors and professions as digital skills, providing exciting career opportunities for all learners. Generation is thrilled to be part of the green talent solution as we continue to prepare, place, and support people into sustainable careers.