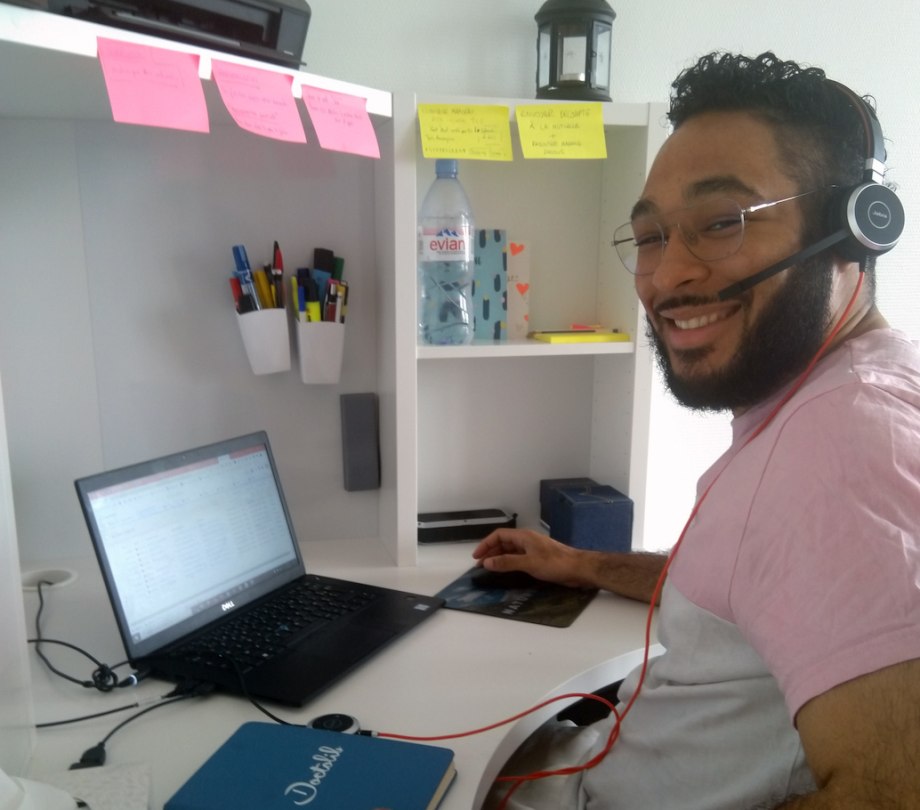 « All Voices & News
David André | France
Meet David André, a graduate of Generation France's Customer Care program now working at Doctolib, one of the fastest growing startups in France.
Can you tell us a bit about yourself and your career path?
After pursuing a literature-focused track in high school, I wanted to get a job as quickly as possible. So, I entered the job market in 2018 and worked for several international organizations such as McDonald's, Auchan, and Carrefour. It was while I was a Sales Advisor at Auchan that I discovered customer service, which enabled me to see how much I liked to be in contact with customers and to cater for their needs.
At 29, I needed more stability, I aspired to have a more fulfilling professional and personal life. That's when I received an email about Generation France's training program and I decided to sign up!
What did you like the most about the training program?
I thought I had registered a little late, but a member of the Generation team contacted me to tell me that they were still interested in my application. We had a telephone interview and the next day I had an appointment at their office. Everything went smoothly, and I was able to start the training right away. I needed a new perspective about my professional life, and the training cleared up any uncertainties I had.
I also really liked the diversity of our class. There were 14 of us and we were all coming from very different backgrounds. Each of us had our own history, culture and background. This diversity allowed us to create strong bonds, and there was a very pleasant group energy where each one of us learned at our own pace. This group experience left a positive mark on me, because it showed me how important humility really is.
Everything was great, both in terms of coaching and training. Our trainers were available to answer any questions we had. They were really there to encourage us and to help us progress to the next level. Generation taught me a trade, it gave me the tools to steer my career in a new and exciting direction.
What happened after you graduated from the training program?
I had several interviews, notably with Brevo and Tiime, but it was with the Doctolib team that I felt a stronger connection. I had a trial period to see how well I fit in the organization and how suitable I was for the job at hand, and after I'd proven myself I was quickly hired. I've been in this job since January 2020.
When I arrived at Doctolib, I felt at ease right away. I particularly liked the company's values and the strong bond it had with its customers. I learned how to surpass myself and how to serve the common interest.
The training literally changed my life. I have since gotten married and signed a lease on an apartment. I am truly grateful to Generation for having such a big impact on both my personal and professional life.
What would you say to someone who is interested to join a Generation program?
I would tell them not to hesitate and to take this program very seriously. I would advise anyone interested to stay focused throughout the training. By doing this, you'll increase your chances of finding a stable job.
What is your best moment from your time in the Generation program?
My favorite moment was the JobDating at Google, which was a great experience. And the bonus was that there was a media crew on site that day to do a feature about Generation and I was also interviewed.
Another highlight was from the last day of the program, when I wrote each of my classmates an encouraging note to express my gratitude for having shared this life-changing experience with them.
What are the 3 words that summarize your Generation experience?
My Generation experience can be summed up in the following three words: extraordinary, because I had an incredible experience; impact, because when you enter the training program you see things can really change in your life; service, the key word for me, because of the examples of service I saw from others, from the other learners in my cohort that helped each other succeed, to our mentors that helped us grow.